I hope everyone will survive the upcoming snowstorm here on the east coast. Stay warm with an extra layer — purchase the new Curls Studio "Heart Comics" t-shirt.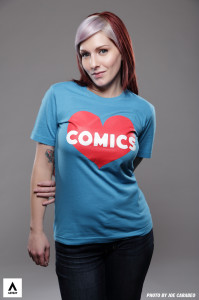 Here is our model beautiful Camille (who also works at a comic shop) wearing the shirt. Thanks to Camille!
I've been nominated for Washington City Paper's Best of D.C. "Best Visual Artist" and if you have less than 30 seconds, I'd appreciate your vote: http://www.washingtoncitypaper.com/bestofpoll/nominations/vote/3012
Song of the moment: "Gold Digger" Kanye West featuring Jamie Foxx
XOXO,
Carolyn
 Subscribe to Curls!