Curls Apple Salsa
on
April 26, 2012
at
1:24 AM
Here is the official recipe for "Curls Apple Salsa" which contains my favorite apples – Granny Smith! You will also need a lime, yellow onion, cilantro, salt, and pepper. I hope you like this recipe and if you make it – tell us how it went for you in the comments below.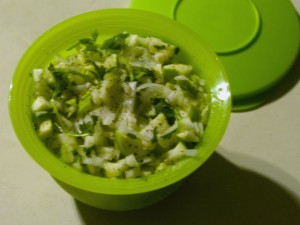 I just made a batch – above is a photo so you can see how it looks in non-cartoony form. It's in a nice green Tupperware bowl I got at Ashley's Tupperware party this past weekend. Time to get crunching on those chips!
One more thing to add is that this is the second installment of "Cook with Curls" – the first one can be found here and is all about how to open a pomegranate.
XOXO,
Carolyn
Subscribe to Curls!