Here is my contribution for Everybody Draw Mohammed Day. It's Wilson, the over-the-fence peeping neighbor of Tim Allen from the TV show Home Improvement. I wanted to do something light and fun that still speaks to censorship and covering of the woman's faces. Wilson provided the perfect conceptual opportunity for this!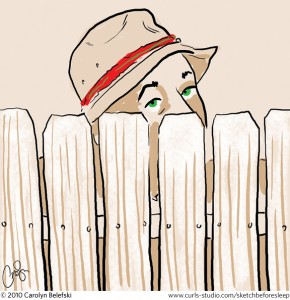 Subscribe!

Check out my webcomic, Curls: http://www.curls-studio.com/curls
Tags: Carolyn Belefski, Censored, Curls Studio, Earl Hindman, Everybody Draw Mohammed Day, Fence, Hat, Home Improvement, Neighbor, Sketch, Wilson Wilson Jr.